Order Flowers now for guaranteed delivery before Tommy's visitation.
Tommy Harbert
Thomas Estel Harbert, Jr., 74, of Dumas, passed away on Wednesday, July 21, 2021. Funeral Services are scheduled for 11 o'clock in the morning on Saturday, July 24, 2021, at First Baptist Church with Pastor Matt Price officiating. Visitation will follow the funeral service. Interment will be held that afternoon for family at the Harbert Family Cemetery. Services are under the direction of Beeson ~ Morrison Funeral Directors.Tommy was born in Amarillo, TX on December 31, 1946, to Thomas and Leona (Albers) Harbert, Sr. He graduated from Dumas High School and then went on to earn his degree in Agriculture Business from Texas Tech. Tommy was a life-long farmer and rancher. He married the love of his life, Mikala Austin, on August 16, 1968, in West Camp, TX.Tommy was an amazing father who loved his family. He was bestowed with the nickname "Bull" because he never did anything half-heartedly. He had a deep love for his wife Mikala that was beyond compare. He was an avid studier of the Word of God; his faith in the Lord was unwavering. Tommy was a member of the First Baptist Church where he also taught bible study. He was always one who favored taking the long way home in search of adventures. His life was full of just that, adventures.He was preceded in death by his parents and brother-in-law, Jesse Hooper.Tommy is survived by his loving wife, Mikala, of the home: children: Latisha Eggleston and husband Dusty of Magnolia, TX, Quentin Harbert and wife Amanda of Dumas, TX and Lacey Martindale and husband Brad of San Antonio, TX; grandchildren: Braxton Martindale and wife McKenzie, Hannah Eggleston, Avery Martindale, Jentry Harbert, Chesna Harbert, Zoey Martindale, Wyatt Eggleston, and Anna Harbert; sisters: Kay Fowler of Edmonds, WA, Diana Ryan and husband Vernon of Rochelle, TX, and Jan Hooper of Springtown, TX; and numerous other extended family members.The family requests, with gratitude, memorials be made to The Gideons International Processing Center, P.O. Box 97251, Washington, DC 20090-7251.
To plant memorial trees or send flowers to the family in memory of Tommy Harbert, please visit our flower store.
---
Guestbook
Sent with love and remembrance,
Jim and Karen Owens Oct 11 2021 12:00 AM
I had the opportunity to attend a Bible lesson that Tommy taught. I could see that he wanted to accurately share the good news of the gospel. He was a good and kind man. He will be missed. My thoughts are with the family at this challenging time.
Britt Canada Aug 1 2021 12:00 AM
Please accept our most heartfelt sympathies for your loss... Our thoughts are with you and your family during this difficult time.
Michael and Brigette Martin Jul 27 2021 12:00 AM
Thinking of each of you and praying for comfort.
Casey (Lewis) Allsbrooks Jul 24 2021 12:00 AM
We will miss him so ,, he always had that smile,,.
Debbie Bethel Jul 24 2021 12:00 AM
We are so sorry for your loss. Tommy was a good man and classmate and friend. You are in our prayers. Jim and Karen Owens.
Jim and Karen Owens Jul 24 2021 12:00 AM
Mikala, My thoughts and prayers for you and the family. Tommy was a strong, kind man, that I have enjoyed knowing.
Johnny & Barbara Johnson Jul 24 2021 12:00 AM
So sorry for all the Harbert family for your loss of Tommy . . He was a good man, former classmate and football teammate of mine for several years as we went through school. The news of his passing just as I had heard of my friend and classmate, Jesse Hooper, passing was a jolt to my heart for both families . . .I pray that our Lord will give comfort and understanding to family members in this time of loss . . .
Dave Hamrick Jul 24 2021 12:00 AM
Mikala so sorry to hear about Tommy Prayers for all your family. Vance and Chris Goodard
Chris Goddard Jul 23 2021 12:00 AM
A photo was added for Tommy Harbert
Troy Schickedanz Jul 23 2021 12:00 AM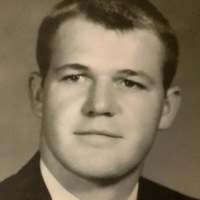 Show More Entries