Order Flowers now for guaranteed delivery before Doris's visitation.
Doris Lohse
Doris Annette Bollinger Lohse, 77 formerly of Dumas, passed away on December 27, 2019. A memorial service will be on Saturday, January 18, 2020 at 11:00 am at Calvary Baptist Church in Dumas with Brad Foster, former pastor of the church officiating. There will be a visitation at 914 Phillips Dr on Friday, January 17, 2020 from 6:30-8:00 pm. Doris was born on June 2,1942 in Fredericktown, MO to Alonzo and Anna Vandergriff Bollinger. She attended school and graduated from Fredericktown High School in Fredericktown, MO. She also received her Real Estate Degree from Amarillo College. Doris married Doug Lohse on May 11,1963 in Fredericktown, MO. They lived in many different places before their family moved to Dumas in 1976, where they would raise their family and make their home. They joined Calvary Baptist Church where Doris was a devoted and faithful servant for many years. Doris was a realtor in Dumas for 30 years and retired from Houlette Real Estate. She received Realtor of the Year twice and loved selling houses to people. She saw it more as helping people rather than a job. Doris was preceded in death by husband, Doug in 2005; father Alonzo Earl Bollinger and mother Anna Mae Vandergriff Bollinger; five sisters, Alma Henson, Almedia McDaniel, Anne Madison, Rose Cooper and June Ruth Bollinger; three brothers, Earl Bollinger, Norman Bollinger and Perry Joe Bollinger. Doris is survived by daughter, Kim Palser and Scott of Dumas, and daughter, Karissa Estes and Chad of Bushland; grandchildren, Andrew Palser of Dumas, Alyssa Holguin and Edward of Carlsbad, NM and Harli Estes of Bushland. One brother Don Bollinger and Dottie of Titusville, FL; one sister Carol LaChance and Terry of Fredericktown, MO and several nieces and nephews. A special thanks to The Craig for taking such great care of our mom! The family suggests memorials be made to the MS Society, 6222 Canyon Dr, Amarillo, TX 79109 or BSA Hospice of the Southwest, 5211SW 9th Ave #100, Amarillo, TX.
To plant memorial trees or send flowers to the family in memory of Doris Lohse, please visit our flower store.
---
Guestbook
A photo was added for Doris Lohse
Beeson - Morrison Funeral Directors May 18 2021 12:00 AM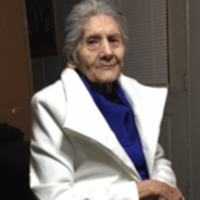 Pam and I continue to pray for your family as you grief the loss of sweet Doris. Thank you for allowing me to be a part of God's healing ministry as we celebrate her life on Saturday.
Brad Foster of Ft. Worth Jan 12 2020 12:00 AM
Doris was one of the kindest persons I've ever had the opportunity to know. She always had the most beautiful smile. I know she has her healing for an eternity now. Blessings to you, the family. God love all of you!
Diana Smith of Dumas, Tx Jan 11 2020 12:00 AM
My Life Has Just Begun Fret ye not, for I am happy AsI sit here with my Lord, No illness is upon me As God promised in His Word. Joy could be no better Than the joy which I now feel No words can describe it Yet the joy 'tis oh so real. Don't look at me and think of death For my life has just begun, And in God's time we will again Unite and be as one. -Sabra Lynn Kesner
Sabra Lynn Kesner of Abilene, TX Jan 7 2020 12:00 AM
A candle was lit in memory of Doris Lohse
Sabra Lynn Kesner of Abilene, TX Jan 7 2020 12:00 AM
Nana you were the best nana ever we love you and miss you dearly.
Sarah ArmendarizBotello of Stratford Tx Jan 6 2020 12:00 AM
A candle was lit in memory of Doris Lohse
Sarah ArmendarizBotello of Stratford Tx Jan 6 2020 12:00 AM
Doris was always sweet and kind, not only to me but everyone
Linda Terry of Amarillo Jan 6 2020 12:00 AM